Managing Attorney, Liu "Margaret" Yang, Esq.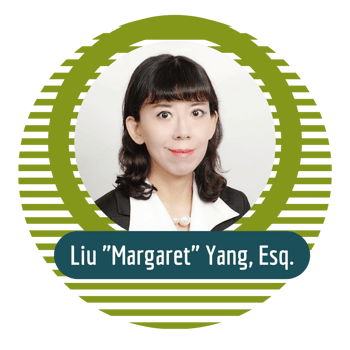 Margaret Yang is originally from China, where she graduated from Southwest University of China with a Bachelor of Arts degree in English education and literature. After moving to the United States, she earned a Master of Instructional Systems Technology degree from Indiana University and a Master of Business Administration from the Illinois Institute of Technology's Stuart Graduate School of Business. Mrs. Yang received her law degree from the Chicago-Kent College of Law, where high grades earned her a spot on the Dean's Honor List. She is licensed to practice law by the state bar associations of New York, New Jersey, and Florida.
Before graduating law school Mrs. Yang gained valuable and relevant experience working as a law clerk, including time in the Circuit Court of Cook County in the foreclosure division, the city of Chicago's Department of Business Affairs and Consumer Protection, the office of the Illinois Attorney General's Antitrust Bureau, and the State's Attorney's Office Worker's Compensation Division.
Prior to joining Amerihope Alliance Legal Services, Mrs. Yang was an associate attorney at the law firm of Leonard and Leonard in Linden, New Jersey. Margaret Yang is a highly educated attorney who leverages all of her knowledge and experiences to achieve the best results for homeowners facing foreclosure. Since joining our firm she has focused on foreclosure defense for our New Jersey clients. She is passionate about consumer law and helping people who are in danger of losing their home.
In her free time she enjoys listening to classical music, working with Photoshop, reading, cooking, and spending time with two children.
Antranig Garibian, Esq., of counsel, Pennsylvania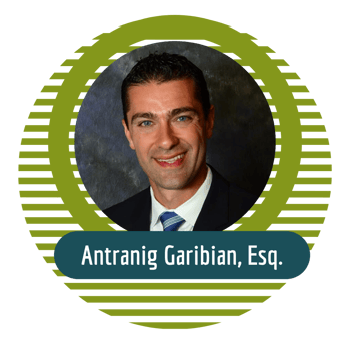 Antranig Garibian is the founder of Garibian Law Offices, P.C. He represents clients throughout the state and federal courts of Pennsylvania, Delaware, New Jersey, and New York. Mr. Garibian advises clients ranging from individuals, small and medium sized businesses and publicly traded international companies on commercial contract disputes, liability claims, corporate governance, loss prevention and general business matters.
Mr. Garibian frequently writes articles and speaks at seminars on a wide array of emerging legal issues.
In 2013 and 2014, Pennsylvania Super Lawyers named Mr. Garibian a "Rising Star," an honor received by only 2.5 percent of lawyers each year and in 2015, New Jersey Super Lawyers named Mr. Garibian a "Rising Star."
Jurisdictions Admitted to Practice
Pennsylvania, New Jersey, Delaware, New York

U.S. District Court - Delaware

U.S. District Court Pennsylvania (Eastern District)

U.S. District Court New York (Eastern, Northern, Southern Districts)

U.S. District Court New Jersey

Gregory Nordt, Esq., of counsel, Illinois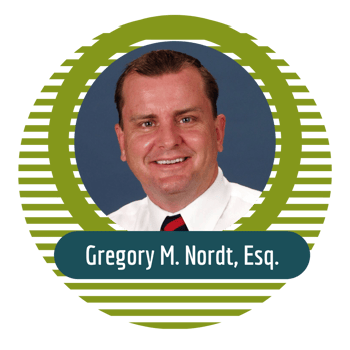 Gregory Michael Nordt was born in Queens, New York. He earned a B.S. in accounting, cum laude, from Florida State University, a Juris Doctorate degree from the University of Miami, and an L.L.M. in taxation from the University of Florida. He was admitted to the Illinois Bar in 2013. He is currently a member in good standing. Mr. Nordt's areas of practice include: foreclosure defense, banking and finance law, tax law, and IRS tax controversy.


About Amerihope Alliance Legal Services
Founded 2008
Our clients include distressed homeowners who have been victimized by the proliferation of sub-prime and predatory lending as well as those who have experienced significant interest rate increases due to ARM adjustments and homeowners who have witnessed double-digit percentage declines in property values which have stripped the equity out of their homes.
Let Us Evaluate Your Situation
Let our firm be your advocate. We are committed to providing you with outstanding service, thoughtful counsel and zealous advocacy.